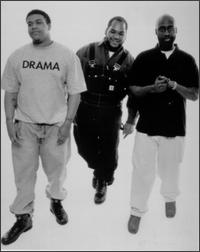 At the time of its 1989 release, De La Soul's debut album, 3 Feet High and Rising , was hailed as the future of hip-hop. With its colorful, neo-psychedelic collage of samples and styles, plus the Long Island trio's low-key, clever rhymes and goofy humor, the album sounded like nothing else in hip-hop. Where most of their contemporaries drew directly from old-school rap, funk, or Public Enemy's dense sonic barrage, De La Soul were gentler and more eclectic, taking in not only funk and soul, but also pop, jazz, reggae, and psychedelia. Though their style initially earned both critical raves and strong sales, De La Soul found it hard to sustain their commercial momentum in the '90s as their alternative rap was sidetracked by the popularity of considerably harder-edged gangsta rap.De La Soul formed while the trio — Posdnous (born Kelvin Mercer, August 17, 1969), Trugoy The Dove (born David Jude Jolicoeur, September 21, 1968), and Pasemaster Mase (born Vincent Mason, March 27, 1970) — were attending high school in the late '80s. The stage names of all of the members derived from in-jokes: Posdnuos was an inversion of Mercer's DJ name, Sound-Sop; Trugoy was an inversion of Jolicoeurs's favorite food, yogurt. De La Soul's demo tape, "Plug Tunin'," came to the attention of Prince Paul, the leader and producer of the New York rap outfit Stetsasonic. Prince Paul played the tape to several colleagues and helped the trio land a contract with Tommy Boy Records.Prince Paul produced De La Soul's debut album, 3 Feet High and Rising, which was released in the spring of 1989. Several critics and observers labeled the group as a neo-hippie band because the record praised peace and love as well as proclaiming the dawning of "the D.A.I.S.Y. age" (Da Inner Sound, Y'all). Though the trio was uncomfortable with the hippie label, there was no denying that the humor and eclecticism presented an alternative to the hardcore rap that dominated hip-hop. De La Soul quickly were perceived as the leaders of a contingent of New York-based alternative rappers which also included A Tribe Called Quest, Queen Latifah, The Jungle Brothers, and Monie Love; all of these artists dubbed themselves the Native Tongues posse.For a while, it looked as if De La Soul and the Native Tongues posse would eclipse hardcore hip-hop in terms of popularity. "Me, Myself and I" became a Top 40 pop hit in the U.S. (number one R&B), while the album reached number 24 (number one R&B) and went gold. At the end of the year, 3 Feet High and Rising topped many best-of-the-year lists, including The Village Voice's. With all of the acclaim came some unwanted attention, most notably in the form of a lawsuit by The Turtler. De La Soul had sampled The Turtler' "You Showed Me" and layered it with a French lesson on a track on 3 Feet High called "Transmitting Live From Mars," without getting the permission of the '60s pop group. The Turtler
won the case, and the decision not only had substantial impact on De La Soul, but on rap in general.
Following the suit, all samples had to be legally cleared before an album could be released. Not only did this have the end result of rap reverting back to instrumentation, thereby altering how the artists worked, it also meant that several albums in the pipeline had to be delayed in order for samples to clear. One of those was De La Soul's second album, De La Soul Is Dead.When De La Soul Is Dead was finally released in the spring of 1991, it received decidedly mixed reviews, and its darker, more introspective tone didn't attract as big an audience as its lighter predecessor. The album peaked at number 26 pop on the U.S. charts, number 24 R&B, and spawned only one minor hit, the number 22 R&B single "Ring Ring Ring (Ha Ha Hey)." De La Soul worked hard on their third album, finally releasing the record in late 1993. The result, entitled Buhloone Mindstate, was harder and funkier than either of its predecessors, yet it didn't succumb to gangsta rap. Though it received strong reviews, the album quickly fell off the charts after peaking at number 40, and only "Breakadawn" broke the R&B Top 40. The same fate greeted the trio's fourth album, Stakes Is High. Released in the summer of 1996, the record was well reviewed, yet it didn't find a large audience and quickly disappeared from the charts. Four years later, De La Soul initiated what promised to be a three-album series with the release of Art Official Intelligence: Mosaic Thump; though reviews were mixed, it was greeted warmly by record buyers, debuting in the Top Ten. The second title in the series, AOI: Bionix, even featured a video hit with "Baby Phat," but Tommy Boy and the trio decided to end their relationship soon after. De La Soul subsequently signed their AOI label to Sanctuary Urban (run by Beyonce's father Matthew), and released The Grind Date in October 2004.
De La Soul - 3 Feet High and Rising
The most inventive, assured, and playful debut in hip-hop history, 3 Feet High and Rising not only proved that rappers didn't have to talk about the streets to succeed, but also expanded the palette of sampling material with a kaleidoscope of sounds and references culled from pop, soul, disco, and even country music. Weaving clever wordplay and deft rhymes across two dozen tracks loosely organized around a game-show theme, De La Soul broke down boundaries all over the LP, moving easily from the groovy my-philosophy intro "The Magic Number" to an intelligent, caring inner-city vignette named "Ghetto Thang" to the freewheeling end-of-innocence tale "Jenifa Taught Me (Derwin's Revenge)." Rappers Posdnuos and Trugoy The Dove talked about anything they wanted (up to and including body odor), playing fast and loose on the mic like Biz Markie. Thinly disguised under a layer of humor, their lyrical themes ranged from true love ("Eye Know") to the destructive power of drugs ("Say No Go") to Daisy Age philosophy ("Tread Water") to sex ("Buddy"). Prince Paul (from Stetsasonic) and DJ Pasemaster Mase led the way on the production end, with dozens of samples from all sorts of left-field artists — including Johnny Cash, The Mad Lads, Steely Dan, Public Enemy, Hall & Oates, and The Turtler. The pair didn't just use those samples as hooks or drumbreaks — like most hip-hop producers had in the past — but as split-second fills and in-jokes that made some tracks sound more like DJ records. Even "Potholes on My Lawn," which samples a mouth harp and yodeling (for the chorus, no less), became a big R&B hit. If it was easy to believe the revolution was here from listening to the rapping and production on Public Enemy's It Takes A Nation Of Millions To Hold Us Back, with De La Soul the Daisy Age seemed to promise a new era of positivity in hip-hop.
Click To Download

De La Soul - De La Soul Is Dead
On their notorious second album, De La Soul went to great lengths to debunk the daisy-age hippie image they'd been pigeonholed with, titling the record De La Soul Is Dead and putting a picture of wilting daisies in a broken flowerpot on the cover. Critics and fans alike were puzzled as to why the group was seemingly rejecting what had been hailed as the future of hip-hop, and neither the reviews nor the charts were kind to the album. It isn't that De La try to remake their sound here — Dead keeps the skit-heavy structure of the debut, and the surreal tone and inventive sampling techniques are still very much in evidence. But, despite a few lighthearted moments ("Bitties in the BK Lounge," the disco-flavored "A Roller Skating Jam Named 'Saturdays'"), a distinct note of bitterness has crept into De La's once-sunny outlook. On the one hand, they're willing to take on more serious subject matter; two of the album's most powerful moments are the unsettling incest tale "Millie Pulled a Pistol on Santa" and Posdnuos' drug-addiction chronicle "My Brother's a Basehead," both true-life occurrences. Yet other tracks betray a brittle, insular state of mind; one running skit features a group of street thugs who ultimately throw the album in the trash for not having enough pimps, guns, or curse words. There are vicious parodies of hip-house and hardcore rap, and the single "Ring Ring Ring (Ha Ha Hey)" complains about being harassed into listening to lousy demo tapes. Plus, the negativity of the bizarre, half-sung "Johnny's Dead" and the hostile narrator on "Who Do U Worship?" seemingly comes out of nowhere. Dead is clearly the product of a group staggering under the weight of expectations, yet even if it's less cohesive and engaging, it's still often fascinating in spite of its flaws.
Click To Download

De La Soul - Buhloone Mindstate
The last album of De la Soul's creative prime, Buhloone Mindstate was also their last with producer Prince Paul. After the claustrophobic De La Soul Is Dead, Mindstate is a partial return to the upbeat positivity of 3 Feet High and Rising, though not its wildly colorful invention. Instead, Buhloone Mindstate takes a calmer, more laid-back approach — the music is often more introspective, and the between-song skits have been jettisoned in favor of a tighter focus. The surrealism of Buhloone Mindstate's predecessors has largely evaporated, and the production, while still imaginative, doesn't quite dazzle the way it used to. Then again, it's admirable that the group is trying to mature and progress musically, and they would never experiment quite this ambitiously again. There's quite a bit more live instrumentation here, with extensive, jazzy guest work by The JB Horns. In fact, the guests threaten to overpower the first half of the album; "Patti Dooke" and "I Be Blowin'" are both extended showcases for the horns, and the latter is a full-fledged instrumental led by Maceo Parker. They're followed by a group of Japanese rappers on "Long Island Wildin'," and it isn't until the terrific single "Ego Trippin', Pt. 2" that De La really takes over. Many of the record's best raps follow: the reflective old-school tribute "Breakadawn," the jazzy "I Am I Be" and "In the Woods," and the Biz Marker collaboration "Stone Age." If Buhloone Mindstate is a great deal more straightforward than De La's earlier work, its high points are still excellent and well worth the time of any fan. In fact, many De La diehards feel that this album is hugely underrated.
Click To Download

De La Soul - Stakes Is High
Seven years after its debut album, De La Soul was still one of the most unpredictable and risk-taking groups in rap. On their fourth record, Stakes Is High, the Long Island natives continued to thrive on the abstract and the cerebral. Instead of the lightheartedness that characterized 3 Feet High And Rising, they favored a harder, tougher approach that's closer to their second album, De La Soul. Jazz remained a strong influence for the group, who sampled the improvised works of Milt Jackson, Lou Donaldson, and Chico Hamilton, as well as classic soul by the likes of The Commodores and Sly & The Family Stone. This eclectic approach was more in keeping with alternative rock and acid jazz circles; in 1996, rap's hardcore seemed much more interested in gangster rap.
Click To Download

De La Soul - Art Official Intelligence: Mosaic Thump
De La Soul came storming back after four years of recording inactivity — and practically a decade out of the hip-hop limelight — with a promise to release three full albums in a series they dubbed Art Official Intelligence. From the first volume, Mosaic Thump, it's clear that despite laudable ambitions, comeback albums should be focused and lean, not as flabby as this one. Unfortunately, the trio of Posdnuos, PA Mase, and Dave (formerly Trugoy The Dove) fall into the same trap they did on 1991's De La Soul Is Dead; an inventive, intelligent group attempts to prove themselves flexible enough to survive in a changing music world, and subsequently loses most of their appeal in the process. Mosaic Thump begins with "U Can Do (Life)," a surprisingly weak attempt at hip-hop soul. Posdnuos' raps are occasionally thoughtful and clever, but he seems obsessed with being as hardcore as DMX or Jay-Z. Aside from a few solid productions by outsiders (Ad Lib's "My Writes," Jaydee's "Thru Ya City," Rockwilder's "I.C. Y'All." with Busta Rhymes), most of Mosaic Thump was produced by De La Soul themselves, and the music is just as limpid and flat as the rapping.
Click To Download
De La Soul - The Grind Date
De La Soul were interrupted just before they could deliver the third volume in their AOI series — projected to be a DJ album — to Tommy Boy. (The label perhaps bailed out from a 15-year relationship precisely because the group was going to release such a commercially bankrupt title, one that will instead appear on an independent label run by Maseo.) De La Soul quickly realized they couldn't go ahead with the plan after signing their AOI label to Sanctuary, so they wrote a new record, The Grind Date. Although it may see them settling into a holding pattern, at least the pattern of 2001's AOI: Bionix is one that any hip-hop fan won't mind hearing repeated. Better yet, it boasts productions from an excellent cast of figures — partner in crime Supa Dave West, author of the best tracks on their AOI series, J-Dilla, who's stretching out his patented (read: overdone) sound to embrace classic hip-hop, an only slightly commercialized Madlib, and young phenom 9th Wonder. Madlib gets what must be the first lead single of his career, a bright, antimaterialist tale called "Shopping Bags (She Got From You)" that thumps like a club tune, but lurches as only the Beat Conductor could do it. "Verbal Clap" finds J-Dilla allowing some grit into his productions, and Supa Dave only continues floating the most fluidly catchy productions of any rap producer in action. Meanwhile, De La Soul voices Posdnuos and Dave balance their time breezing easy on bumping message tracks with a few old-school shots that show them a bit defensive about the passing of time. (Check out "Come On Down," a Madlib-produced shot with Flava Flav, or "Days of Our Lives" featuring Common.) Without a concept to tout, The Grind Date doesn't gel like AOI: Bionix, but it does show De La Soul keeping everything together more than 15 years after their debut (you certainly don't see MF Doom guesting on a Tone Loc record).
Click To Download

Last Added

: De La Soul - The Impossible Mission (Oct 24, 2006: Red Lion)
"No longer backed by record companies but back by popular demand" raps Posdnuos in "Freedom Train," the penultimate song on De La Soul's label-less mixtape Impossible Mission: TV Series, Pt. 1, a collection of older previously unreleased tracks, as well as new material, all of which helps to firmly establish the group as one of hip-hop's legends. Not that Impossible Mission compares to 3 Feet High and Rising or De La Soul Is Dead or even AOI: Bionix, because it doesn't — those were all focused and pointed albums, while this one, being a mixtape, is a little more across the board — but it contains a lot of strong work, both in the new songs as well as in the older tracks (especially the excellent "Mindstate," found on "What the F*@k #2," and apparently recorded during the Buhloone Mindstate sessions and played for Tommy Boy execs just to scare them, though there was never any intention of including it on the album). For the most part, the rhymes are all pretty good, with lines like "Me without your balance just wouldn't sit right/Like written wouldn't be past tense without ten" (from "Wasn't for You") reminding fans why De La has had so much success throughout their 15-plus years in the game. They're veterans, that's clear, but they're still very impressive. The production on Impossible Mission is pretty great too, with beats from longtime collaborator Supa Dave West as well as Geology, J Dilla (recycled from Slum Village, however), and Oh No, though the majority of the songs have no producer listed, which is fairly annoying, but does attest to the record's quasi-illegitimatacy. In releasing a mixtape, De La Soul is declaring that they're making music because they love making music, and not because of the money they're going to get from each album. Yeah, they're still trying to sell themselves, proffering their wares, hawking their goods to all interested buyers, seeing if any record label is interested and/or if they even need one, but it's all secondary to the music, the rhymes over the beats, the basics, which is all that we want to hear, anyway.
Click To Download

Go & Buy an album to support artist :)Special Thanks To
www.rapbox.org