Without question the most intelligent, artistic rap group during the 1990s, A Tribe Called Quest jump-started and perfected the hip-hop alternative to hardcore and gangsta rap. In essence, they abandoned the macho posturing rap music had been constructed upon, and focused instead on abstract philosophy and message tracks. The "sucka MC" theme had never been completely ignored in hip-hop, but Tribe confronted numerous black issues — date rape, use of the word nigger, the trials and tribulations of the rap industry — all of which overpowered the occasional game of the dozens. Just as powerful musically, Quest built upon De La Soul`s jazz-rap revolution, basing tracks around laid-back samples instead of the played-out James Brown-fests which many rappers had made a cottage industry by the late '80s. Comprised of Q-Tip,Ali Shaheed Muhammad, and Phife, A Tribe Called Quest debuted in 1989 and released their debut album one year later. Second album The Low End Theory was, quite simply, the most consistent and flowing hip-hop album ever recorded, though the trio moved closer to their harder contemporaries on 1993's Midnight Maraduers. A spot on the 1994 Lollapalooza Tour showed their influence
with the alternative crowd — always a bedrock of A Tribe Called Quest's support — but the group kept it real on 1996's Beats,Rhymes and Life, a dedication to the streets and the hip-hop underground.A Tribe Called Quest was formed in 1988, though both Q-Tip (b. Jonathan Davis a.k.a Kamaal Ibn John Fareed) and Phife(b. Malik Taylor) had grown up together in Queens. Q-Tip met DJ Ali Shaheed Muhammad while at high school and, after being
named by The Jungle Brothers (who attended the same school), the trio began performing. A Tribe Called Quest's recording debut came in August 1989, when their single, "Description of a Fool," appeared on a tiny area label (though Q-Tip had previously guested on several tracks from De La Soul's 3 Feet High and Rising and later appeared on Deee-Lite's "Groove Is in the Heart").Signed to Jive Records by 1989, A Tribe Called Quest released their first album, People`s Instinctive Travels and the Paths of Rhythm, one year later. Much like De La Soul, Tribe looked more to jazz as well as '70s rock for their sample base — "Can I Kick It?" plundered Lou Reed`s classic "Walk on the Wild Side" and made it viable in a hip-hop context. No matter how solid their debut was, second album The Low End Theory outdid all expectations and has held up as perhaps the best hip-hop LP of all time. The Low End Theory had included several tracks with props to hip-hop friends, and A Tribe Called Quest cemented their support of the rap community with 1993's Midnight Marauders. Th
e album cover and booklet insert included the faces of more than 50 rappers — including obvious choices such as De La Soul and The Jungle Brothers — as well as mild surprises like The Beastie Boys, Ice-T, and Heavy D. Though impossible to trump Low End`s brilliance, the LP offered several classics (including Tribe's most infectious single to date, "Award Tour") and a harder sound than the first two albums. During the summer of 1994, A Tribe Called Quest toured as the obligatory rap act on the Lollapalooza Festival lineup, and spent a quiet 1995, marked only by several production jobs for Q-Tip. Returning in 1996 with their fourth LP, Beats, Rhymes and Life, Tribe showed signs of wear; it was a good album, but proved less striking than The Low End Theory or Midnight Maraduers. While touring in support of 1998's The Love Movement, the group announced their impending breakup.
A Tribe Called Quest - People's Instinctive Travels and the Paths of Rhythm
(Apr 17, 1990: Jive )
One year after De La Soul re-drew the map for alternative rap, fellow Native Tongues brothers A Tribe Called Quest released their debut, the quiet beginning of a revolution in non-commercial hip-hop. People's Instinctive Travels and the Paths of Rhythm floated a few familiar hooks, but it wasn't a sampladelic record. Rappers Q-Tip and Phife Dawg dropped a few clunky rhymes, but their lyrics were packed with ideas, while their flow and interplay were among the most original in hip-hop. From the beginning, Tribe focused on intelligent message tracks but rarely sounded over-serious about them. With "Pubic Enemy," they put a humorous spin on the touchy subject of venereal disease (including a special award for the most inventive use of the classic "scratchin'" sample), and moved right into a love rap, "Bonita Applebum," which alternated a sitar sample with the type of jazzy keys often heard on later Tribe tracks. "Description of a Fool" took to task those with violent tendencies, while "Youthful Expression" spoke wisely of the power yet growing responsibility of teenagers. Next to important message tracks with great productions, A Tribe Called Quest could also be deliciously playful (or frustratingly unserious, depending on your opinion). "I Left My Wallet in El Segundo" describes a vacation gone hilariously wrong, while "Ham 'n' Eggs" may be the oddest topic for a rap track ever heard up to that point ("I don't eat no ham and eggs, cuz they're high in cholesterol"). Contrary to the message in the track titles, the opener "Push It Along" and "Rhythm (Dedicated to the Art of Moving Butts)" were fusions of atmospheric samples with tough beats, special attention being paid to a pair of later Tribe sample favorites, jazz guitar and '70s fusion synth. Restless and ceaselessly imaginative, Tribe perhaps experimented too much on their debut, but they succeeded at much of it, certainly enough to show much promise as a new decade dawned.
A Tribe Called Quest - The Low End Theory (Sep 24, 1991: Jive)
While most of the players in the jazz-rap movement never quite escaped the pasted-on qualities of their vintage samples, with The Low End Theory, A Tribe Called Quest created one of the closest and most brilliant fusions of jazz atmosphere and hip-hop attitude ever recorded. The rapping by
Q-Tip
and
Phife Dawg
could be the smoothest of any rap record ever heard; the pair are so in tune with each other, they sound like flip sides of the same personality, fluidly trading off on rhymes, with the former earning his nickname (the Abstract) and
Phife
concerning himself with the more concrete issues of being young, gifted, and black. The trio also takes on the rap game with a pair of hard-hitting tracks: "Rap Promoter" and "Show Business," the latter a lyrical soundclash with
Q-Tip
and
Phife
plus
Brand Nubian
's
Diamond D
,
Lord Jamar
, and
Sadat X
. The woman problem gets investigated as well, on two realistic yet sensitive tracks, "Butter" and "The Infamous Date Rape." The productions behind these tracks aren't quite skeletal, but they're certainly not complex. Instead, Tribe weaves little more than a stand-up bass (sampled or, on one track, jazz luminary
Ron Carter
) and crisp, live-sounding drum programs with a few deftly placed samples or electric keyboards. It's a tribute to their unerring production sense that, with just those few tools, Tribe produced one of the best hip-hop albums in history, a record that sounds better with each listen. The Low End Theory is an unqualified success, the perfect marriage of intelligent, flowing raps to nuanced, groove-centered productions.
A Tribe Called Quest - Midnight Maraduers
(Nov 9, 1993: Jive)
Though the abstract rappers finally betrayed a few commercial ambitions for Midnight Marauders, the happy result was a smart, hooky record that may not have furthered the jazz-rap fusions of The Low End Theory, but did merge Tribe-style intelligence and reflection with some of the most inviting grooves heard on any early-'90s rap record. The productions, more funky than jazzy, were tighter overall — but the big improvement, four years after their debut, came with Q-Tip's and Phife Dawg's raps. Focused yet funky, polished but raw, the duo was practically telepathic on "Steve Biko (Stir It Up)" and "The Chase, Pt. 2," though the mammoth track here was the pop hit "Award Tour." A worldwide call-out record with a killer riff and a great pair of individual raps from the pair, it assured that Midnight Marauders would become A Tribe Called Quest's biggest seller. The album didn't feature as many topical tracks as Tribe was known for, though the group did include an excellent, sympathetic commentary on the question of that word ("Sucka Nigga," with a key phrase: "being as we use it as a term of endearment"). Most of the time, A Tribe Called Quest was indulging in impeccably produced, next-generation games of the dozens ("We Can Get Down," "Oh My God," "Lyrics to Go"), but also took the time to illustrate sensitivity and spirituality ("God Lives Through"). A Tribe Called Quest's Midnight Marauders was commercially successful, artistically adept, and lyrically inventive; the album cemented their status as alternative rap's prime sound merchants, authors of the most original style since The Bomb Squad first exploded on wax.
With each of its first three albums, A Tribe Called Quest seemed to be on its way to bigger and better things, artistically and commercially. Beats, Rhymes and Life promptly ended that streak and still ranks as the group's most disappointing listen. Amplifying the bare beats-and-bliss of The Low End Theory but erasing the hooks of Midnight Marauders, Beats, Rhymes and Life simply wasn't a compelling record. In fact, A Tribe Called Quest sounded bored through most of it — and, to put it bluntly, there wasn't much to get excited about either. Previously so invigorating and idea-driven, Q-Tip and Phife strutted through their verses, often sounding confused, hostile, and occasionally paranoid (check out the battle tracks, "Phony Rappers" and "Mind Power"). Meanwhile, the skeletal productions offered little incentive to decode the lyrics and messages, most of which were complex as expected. Though several other tracks had solid productions (like the spry, bass-driven backing to "Phony Rappers"), Beats, Rhymes and Life saw A Tribe Called Quest making its first (and only) significant misstep. (Constant touring off the success of Midnight Marauders may have been a factor.) Yes, they were still much better than the vast majority of alternative rappers, but it seemed they'd lost their power to excite. One of the few successes was a surprising R&B crossover called "1nce Again" (featuring Tammy Lucas).
A Tribe Called Quest - The Love Movement (Sep 29, 1998: Jive)
Continuing with the subdued, mature stylistic flow of
Beats, Rhymes and Life
, The Love Movement, the fifth album from A Tribe Called Quest, is the group's subtlest album yet — which may just be a polite way for saying it's a little monotonous. Throughout the record, Tribe mines the same jazz-flavored, R&B-fueled beats that were the hallmark of
Beats
. Although the "love" concept provides a thematic cohesion to the album — almost all of the songs are about love, in one way or another — the overall effect is quite similar to its immediate predecessor: the music is enthralling for a while, but soon it all sounds a little too familiar. Part of the problem is that Tribe functions on a cerebral level, a point made painfully clear by
Busta Rhymes
' and
Redman
's roaring, visceral cameos on "Steppin' It Up." On their own, Tribe favors craft over raw skills. That means there are plenty of pleasures to be had from careful listening, but Tribe has reached a point where it's easier to admire
the Ummah
's stylish production and the subtle rhymes of
Q-Tip
,
Phife
, and
Ali Shaheed
than it is to outright love them, which is ironic for an album bearing the title The Love Movement.
A Tribe Called Quest - The Love Movement (Bonus CD)
Compilations:

A Tribe Called Quest - Revised Quest for the Seasoned Traveler (1994: Jive)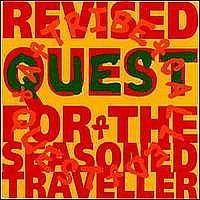 As the years go by, the number of obnoxious remix collections multiplies faster than a tribble. The dance contingent is the worst criminal of this exercise, whereas the farthest hip-hop groups usually stray is by releasing "instrumental" versions of their albums. Thankfully, Revised Quest for the Seasoned Traveler is a refreshing exception to both such workmanlike rules. Fans will notice something pleasant right off the bat: The majority of the remixes on this compilation are actually done by the band themselves. So you get the rather faithful re-take of "Description of a Fool" by A Tribe Called Quest (and The Jungle Brothers), "Public Enemy" in a more club-friendly environment, and even the smiley "Bonita Applebum" turned into a fun piece of Top 40 cheese. It's most of the third-party perspectives that should be passed over (the simplistic house of Tom & Jerry's "Luck of Lucien" remix is as predictable as it sounds). Which means only a couple of these outsiders go much above and beyond the call of remix duty. The "Boilerhouse Mix" of "Can I Kick It?" adds a layer of dark solidity to the Lou Reed-sampling classic while Norman Cock (in his pre-Fatboy Slim days) does a fiesta, horn-blaring reggae take on "I Left My Walled in El Segundo." Both of these are unique — and tasteful — remixes done of such Tribe favorites. So generally, the quality is quite high here compared to what one may expect from cobbled-together remix albums. It's half-way personal, half-way engaging. Revised Quest for the Seasoned Traveler is a treat for both hardcore fans as well as those listeners curious enough as to how to properly compile a hip-hop remix collection. Especially without the tribbles.
A Tribe Called Quest - Anthology (Oct 26, 1999: Jive)
For those who haven't discovered that A Tribe Called Quest made several of the best LPs in hip-hop history, Anthology is a perfect way to encapsulate the trio's decade-long career into one manageable portion. All of their best and biggest songs are here, from the early neglected joint "Luck of Lucien" to classic jazz-rap from The Low End Theory like "Jazz (We've Got)," and their 45-rpm peak with "Award Tour," all the way to their last big hit, "Find a Way," from 1998's The Love Movement. Yes, anyone who enjoys hip-hop needs to own at least Midnight Marauders and The Low End Theory, but Anthology succeeds in delivering all the highest points from a great hip-hop group's career. The collection also includes the first solo track from Q-Tip, 1999's "Vivrant Thing."
A Tribe Called Quest - Anthology (Bonus CD)
Unquestionably one of the most influential acts in the history of hip-hop, the Tribe left behind them a legacy few could contend with and most have revered since their debut release. And while Hits, Rarities & Remixes is not as thorough a compilation as 1999's Anthology, it does offer highly sought-after tracks that are out of print, including a few that were featured exclusively on movie soundtracks. A good number of the crowd-favorite anthems that made Tribe one of the most adored groups of its time are featured here, and a few that were secret weapons in many a DJ crate during their initial release. What separates this collection from the earlier anthology is its ability to function as a comprehensive road map through the group's career for the inquisitive first-timer as well as offer up obscure tracks for the die-hard beat heads. And while serious fanatics will already have all of these releases on CD, it's well worth the purchase price to have them all in one place.
2 be continued...